Lalalu campsite and garden
In the world of Lalalu kidscafé, children can grow or buy food themselves. You can use a small garden with garden furniture and barbecue facilities. The ripened vegetables can be brought directly there or to the market place. Entrepreneurial qualities have to be built up in childhood and we are glad to help them develop.
Lalalu market
In the Lalalu kidscafé we have everything that is good for children. Just take your shopping cart and buy fresh fruits and vegetables in the market. After shopping, you can grill in the Lalalu garden or picnic in the camper.
Lalalu Square
The gateway to the world of the Lalalukidscafé, where the hustle and bustle of a shopping center is transformed into a peaceful atmosphere. Park the toy car and walk through the market to the camping area. You will feel at home in the garden. With the difference that we will take care of your well-being and that of your children.
Race Zone
Three, two, one, start! With cars, your child can overcome obstacles on the racetrack and the limits of his own imagination as well. At the end of the road, any car can take off and continue on. The only possible indication of gravity is, that the sentence "We're leaving" doesn't move your kid an inch closer to your home :)
Lalalu bar & counter
One need a huge amount of energy for playing with children. They're unstoppable in their pursuit of happiness, and so it's just natural, that you need to refresh yourself and replenish your internal energy supplies. For this, we prepared delicious and healthy drinks and snacks specially developed for both children and parents as well.
Would you like to enjoy a special coffee of the highest quality with cakes or our tea variations or special lemonade? Then have a look!
Viking Bridge
Overcoming the impossible obstacles was a daily routine for the Vikings. In addition to the stormy sea, they climbed high hills over which they built their own bridges. If a child can cross the Vikings Rocking Bridge without falling into the net, then it can do anything.
The Lalalu Beauty Salon

In the Lalalu beauty salon, your little girl can be whoever she wants to be. Here little girls transform into actresses, singing and dancing stars. They dress up and escape into their own world. They style their nails, beautify their lips in their favorite color and adapt their hair to the fashion of famous women.
Cube wall / block factory
Imagine a room full of cubes waiting for you to climb onto.
They are all stored on the wall. Thanks to a new way of folding cubes, every child becomes an artist without having dirty hands and clothes.
Table toy zone
If your child is still too young to jump, climb and drive, then we have a great toy room. Here it can play with cars, trains and above all with other children of the same age.
Lalalu Tower
Even the smallest ones will find their favorite place in the world of Lalalukidscafé. Created just for them, there are pools with foam cubes and fun balls. The bravest children can go to the tower and play fishermen. Who will catch the fish first?
Climbing wall / Lalalu mountain climb

Here, children experience an adventure without any threat. Will they be able to get over the foam cubes to the climbing wall and will they still have enough strength to climb to the highest point? If you can't do it, fall between the soft cubes and start over.
Our Story
World phenomenon Kidscafé finally opens in Austria
Kidscafé is a place where parents can take a break and their children play under the care of qualified supervisor and animators.
We all do everything we can to give our children the best education and highest quality living conditions possibôe. Alas, our efforts often ends up consuming all of our spare time, that
was originally reserved for our children.
This is exactly the story of hard-working mother Shannon, who was searching for way how to combine time-consuming carreer and raising her three children - also a very time-consuming activity indeed.
Instead of compromising, she made a hard decision - she left her previous job and created a space where she can work and be around her children at the same time.
You too can experience unforgettable moments with your little ones in our Kidscafe. If your children are aged 0 - 3 years, just have a wonderful time with them while enjoying our coffee.
Or you can go shopping and have a little break from them, if they're aged 3 - 10 years. Our trained instructors and animators will take care of them while you discover the latest brands in Parndorf.
Moreover, we can throw a fabolous party for them they will remember a lifetime.
€ 9.50 / hour / per child (1 - 9 years) childcare included
Ask in the store about our bonus program and gift vouchers.
Price includes € 0.50 donation for the "Sterntalerhof Children's Hospice".
Activities
At Lalalu Kidscafé you will find everything but boredom. Children can enjoy up to 13 attractions, which are divided into thematic zones. They can jump between foam cubes, play in the children's garden, turn themselves into a superstar or spend time with interactive games. Of course there are activities for the youngest ones.
In addition to regular attractions, we offer a special program for children every day. Created and organized by our supervisors so your beloved ones feel good all around. You will see that face painting or jumping into the foam cube pool will make a life-long memories for them.
This week's programme 19.10. - 26.10.2020
Monday
Color haloween pictures
Tuesday
Kids makeup day

Wednesday
Pumpkin tinkering
Thursday
Witch tinker
Friday
Fish catching competition

Your children can have all the attractions in the Lalalukidscafé for themselves only. Organize a birthday party with us or give your little ones a special surprise at the end of the school year. If you prefer your own imagination being put in action, you can design your themed party and invite all the children around you. We are happy to help you create a wonderful and fun experience.
Monday
Pictures painting-competition

Tuesday
Fish catching competition
Wednesday
Disney makeup day

Thursday:
Disco day-stop dance

Friday:
Indian Day- Jewellery crafting/make-up

Saturday:
play with us
During Easter, we paint Easter eggs and look for hidden sweet surprises.

In Christmas time we create gifts together and write a letter to the Christ child with all our wishes.

February is carnival season, enjoy the fun with us.

In May we make gifts for our great mums.

Throughout the year, all those events help children to develop their first friendships, symphaties and emotions.
Geburtstagspaket
*Optional: ganze Kindercafe-Zone dekoriert - Preis auf Anfrage erhaltlich
Price € 395,- incl. VAT
Takes place in our party room
Space available for 2 hours + half an hour extra for preparation / packing
Individual packages possible!
Party room decoration
Decoration of party room:

Incl. 1 number balloon with the age of the child

Incl. "Happy Birthday" lettering

Incl. Napkins, plates, cups, cutlery
* Optional: entire children's café zone decorated - price available on request

Including drinks, food, dessert (choose from our children's menu)

Including face painting

Overall support and program (on request)

Incl. "Happy Birthday" - song by the entire LALALU team on duty

Including admission price for 9 children for 2 hours

Free entry for birthday child for 2 hours
You can bring your own cake
The birthday parties are possible at the following times:
Mo - Th
15:00-17:00 / 16:00-18:00
Fr
15:00-17:00 / 16:00-18:00 / 17:00-19:00
Sa
10-12
Book now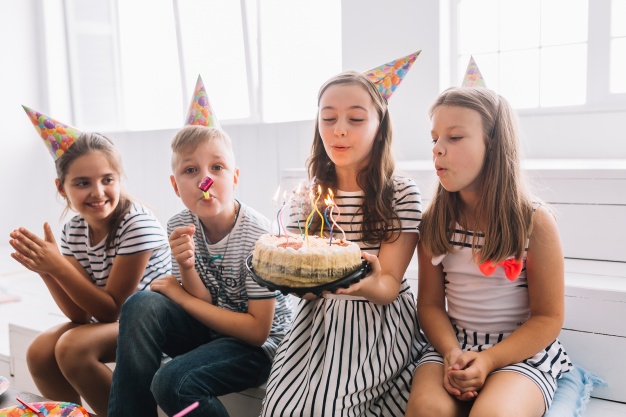 20 Kids
Birthday packet PREMIUM
Price € 945,- incl. VAT
Takes place in the entire children's café area
Space available for 2 hours + half an hour extra for preparation / cleaning
Individual packages possible!
*Optional:
Decoration of the entire children's café area:

Incl. 1 number balloon with the age of the birthday child
Feston "Happy Birthday".

Including napkins, plates, cups, cutlery

Individual birthday packages are possible for less than 10 (basic package) or 20 children (premium package)
* Optional:
Magician - price available on request
Balloon manufacturer - price available on request

Incl. drinks, food, dessert (to choose from our menu)

Including face painting

Including photo album

Including free nail polish for all girls

Including free tattoo for all invited children
overall support and program (on request)

Incl. "Happy Birthday" - song by the entire LALALU team on duty

Including admission for 19 children for 2 hours

Free entry for birthday child for 2 hours
The children can choose the decoration from the following colors:

pink
lavender
coral
Mint
navy blue
light green
beige
tropical
All colors can also be combined with either silver or gold.
You can bring your own cake
Special offers are included in every package! The birthday parties are possible at the following times:
Mo - Th
15:00-17:00 / 16:00-18:00
Fr
15:00-17:00 or 16:00-18:00 or 17:00-19:00
Sa
10:00 - 12:00
Book now
Unique products for your children
Welcome to our Lalalu online shop. With us you will find great products for your little ones that impress with their design and durability.
Highest product quality is important to us! Therefore, we make sure that these products are completely harmless and safe for the children.
If you have any questions or would like to organize a party or an unforgettable event for your little ones, write us an email or give us a call.
We also speak Lalalu :)